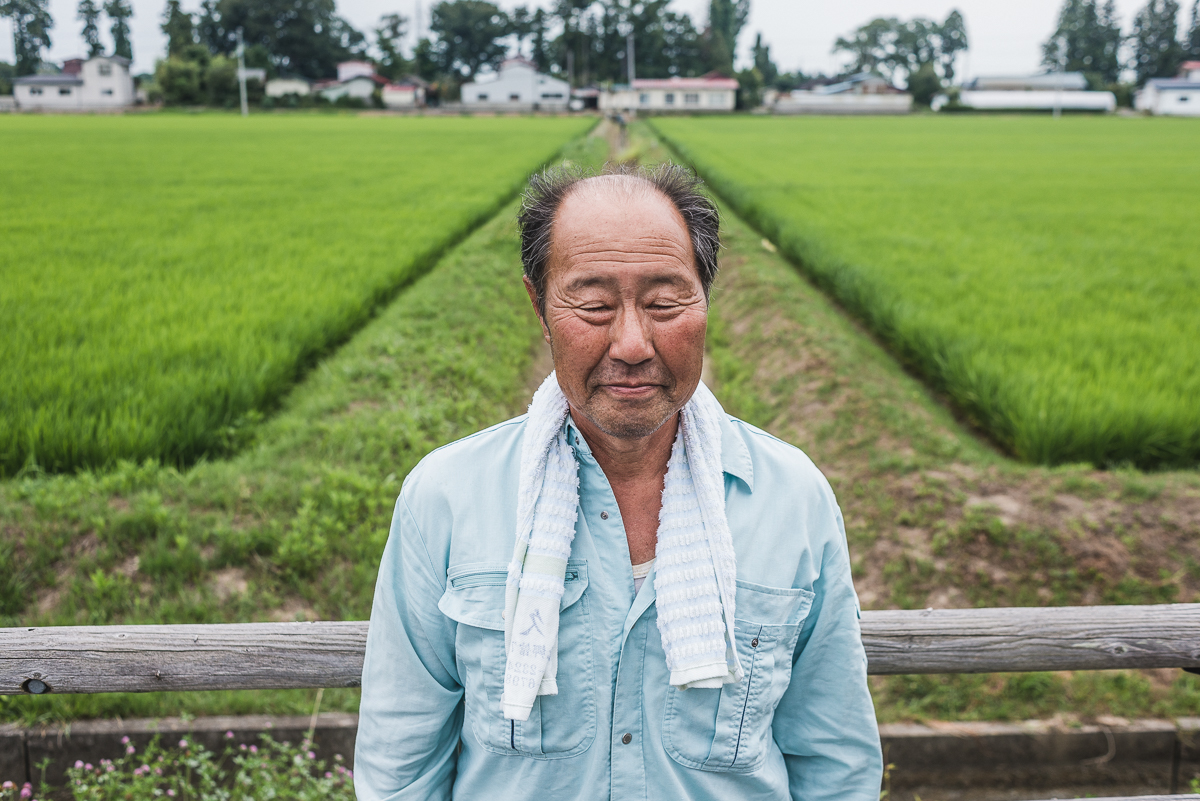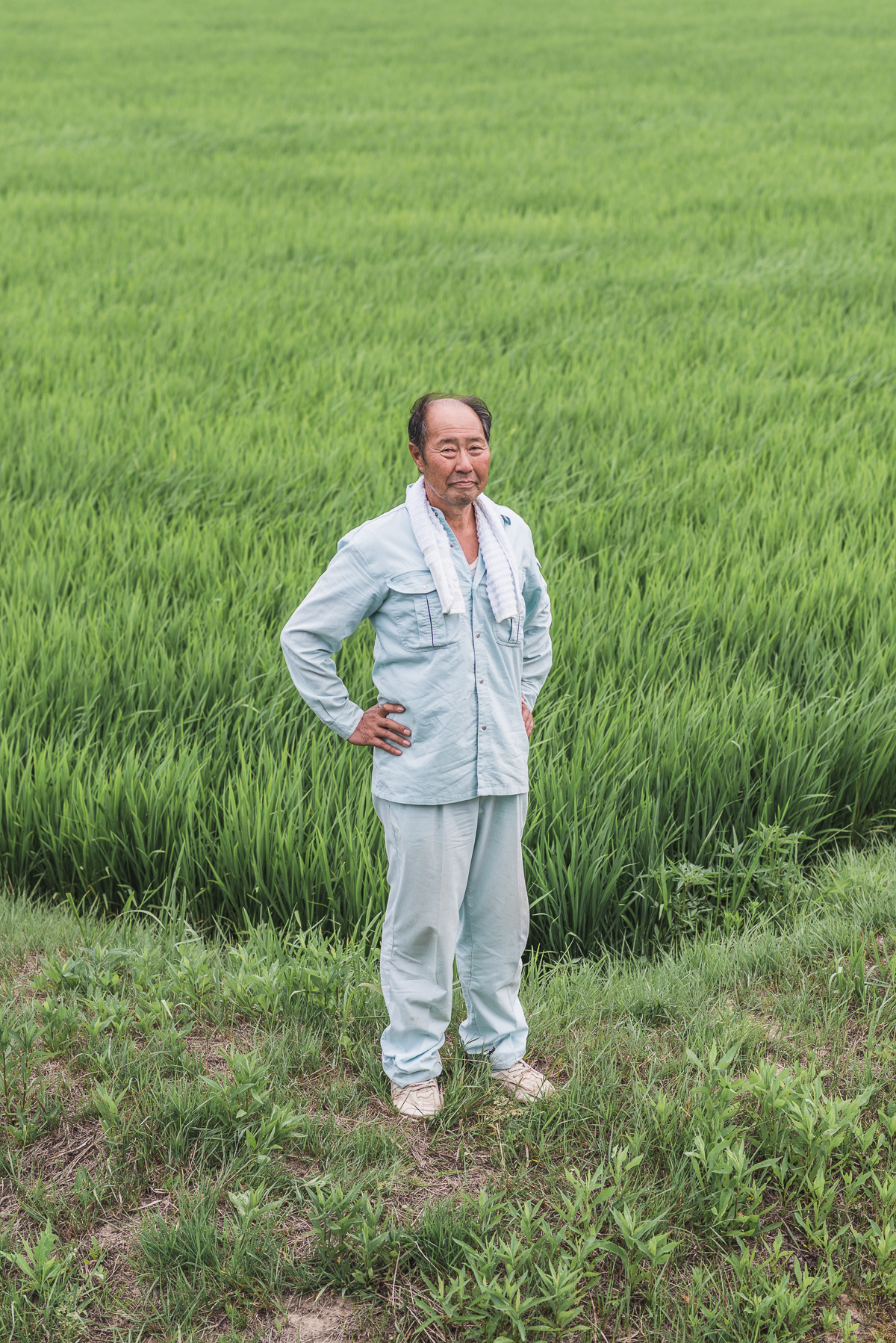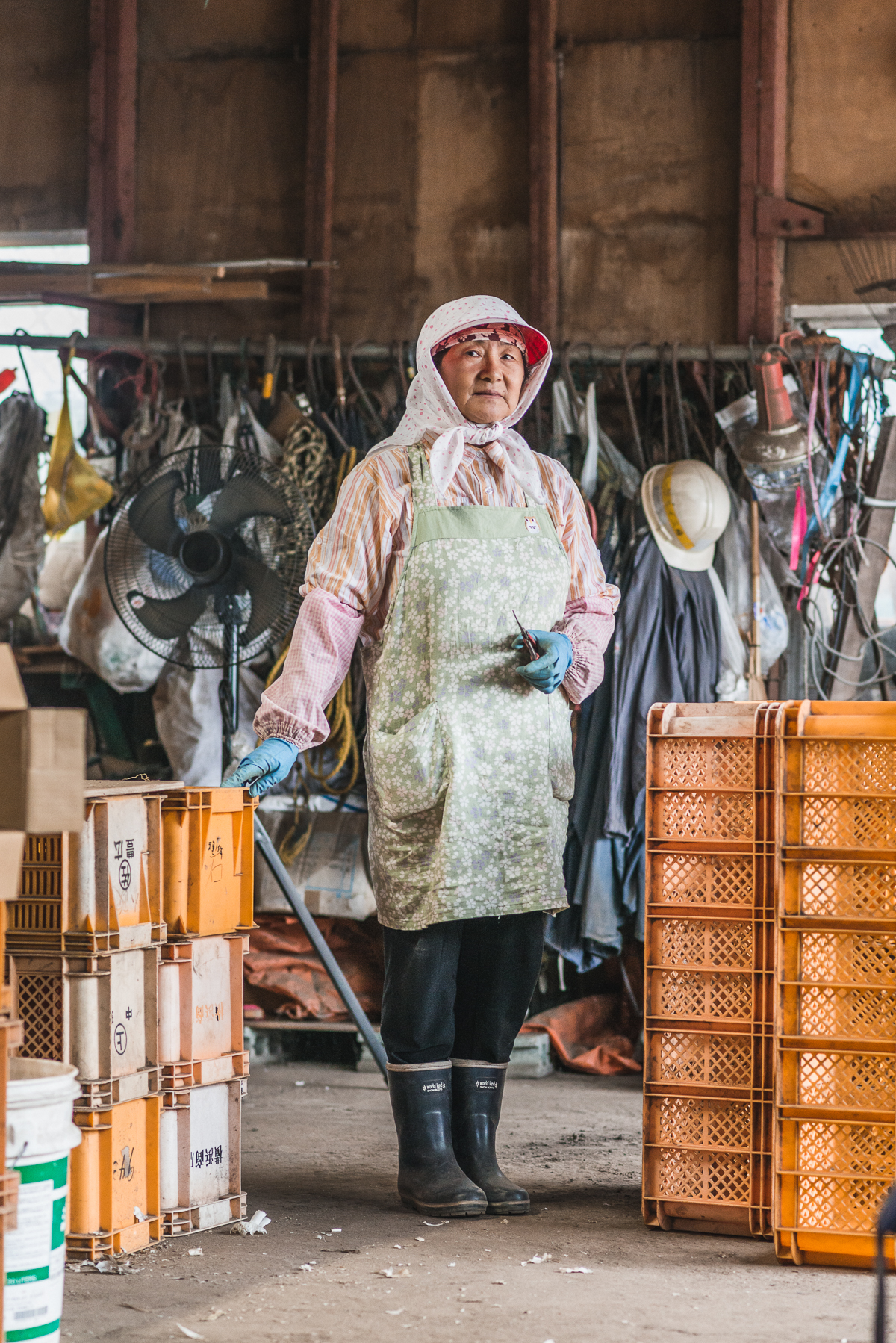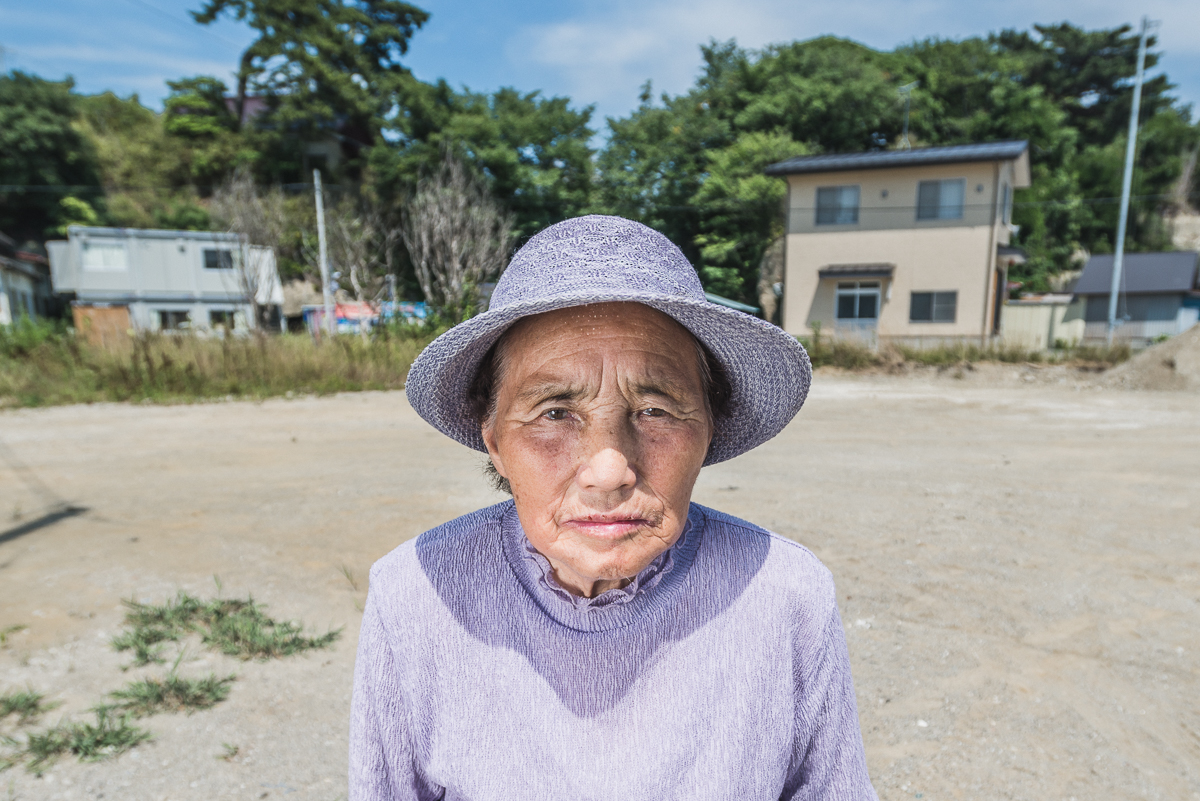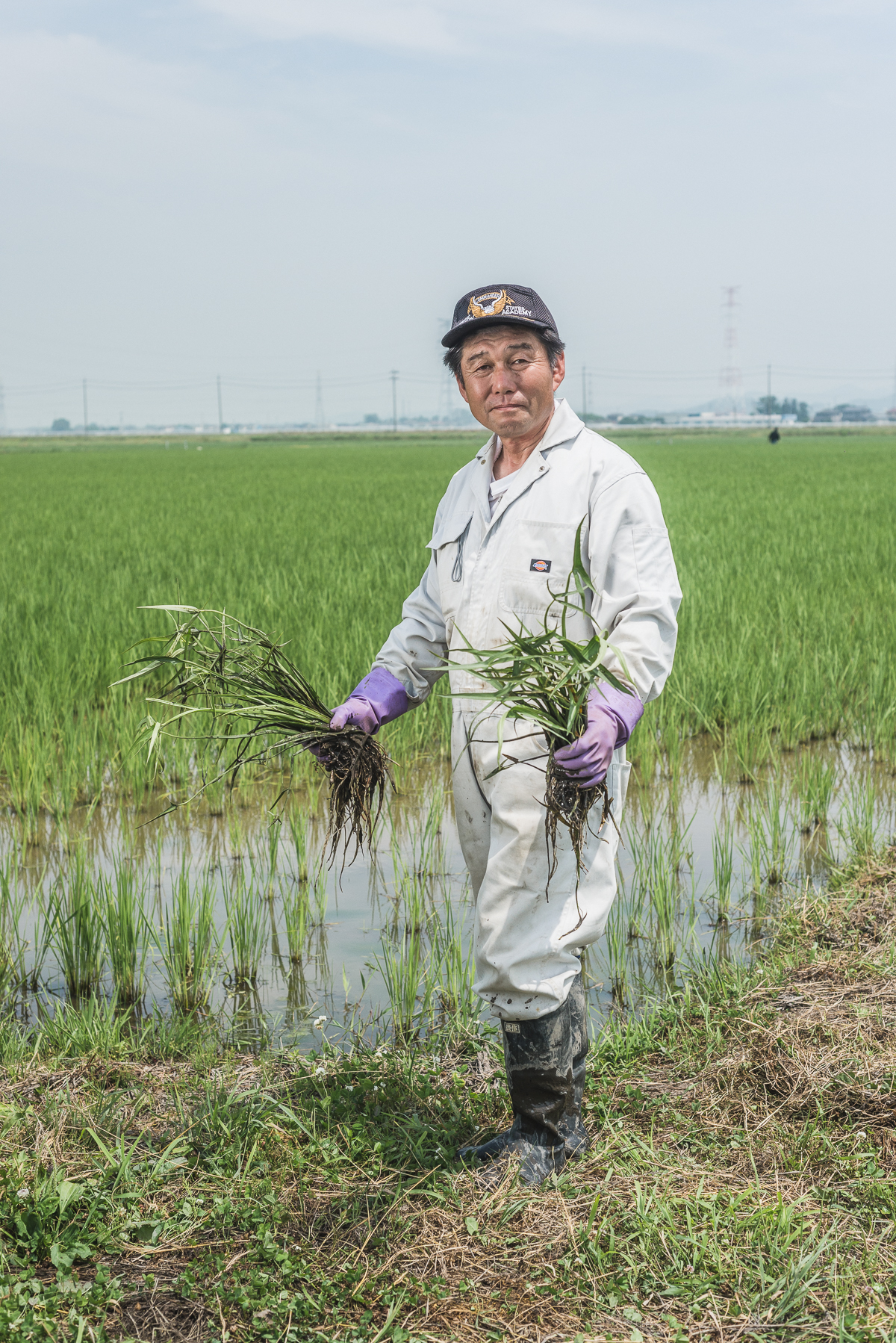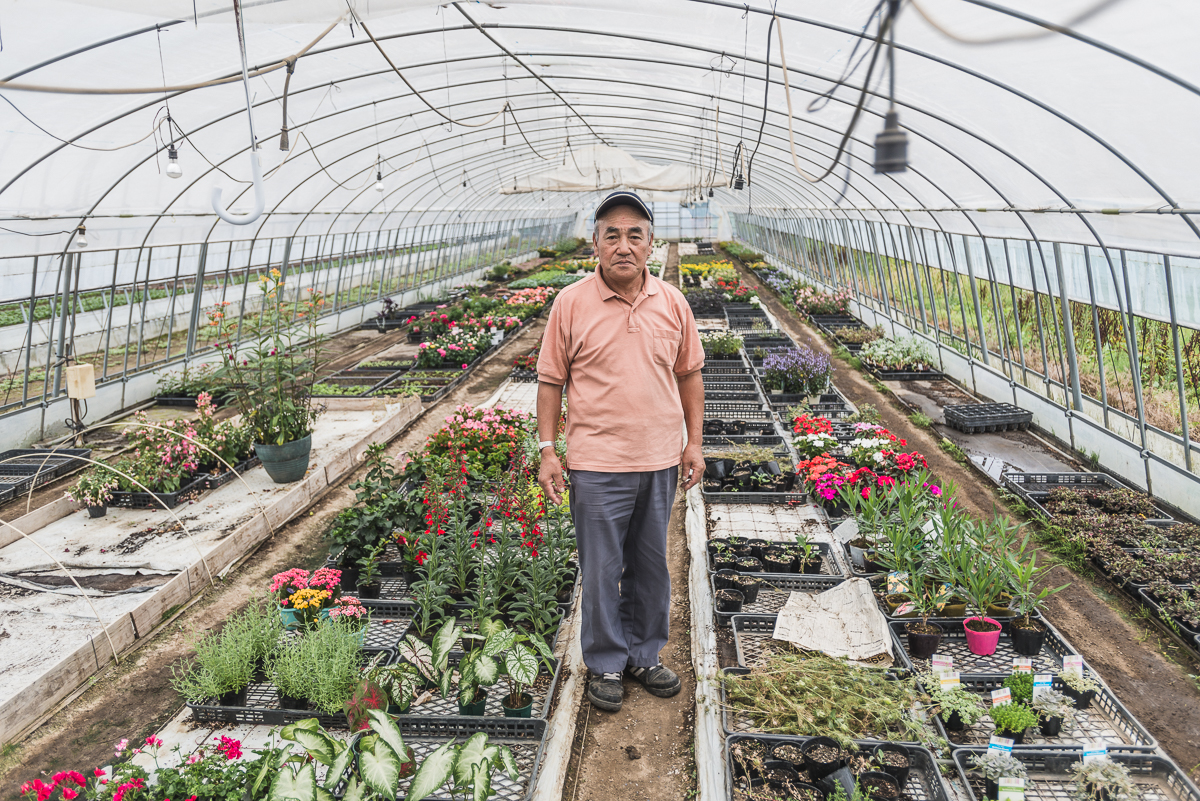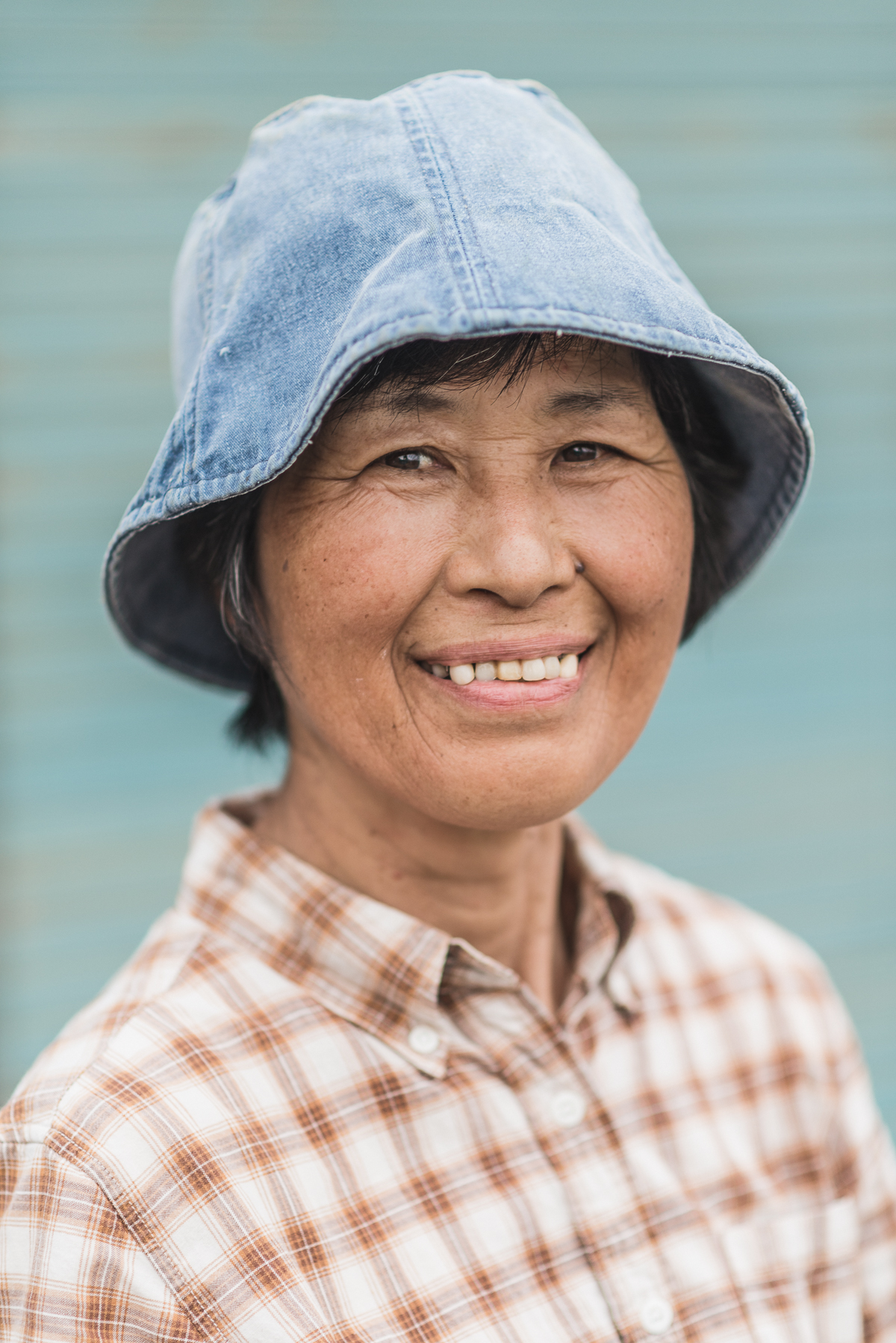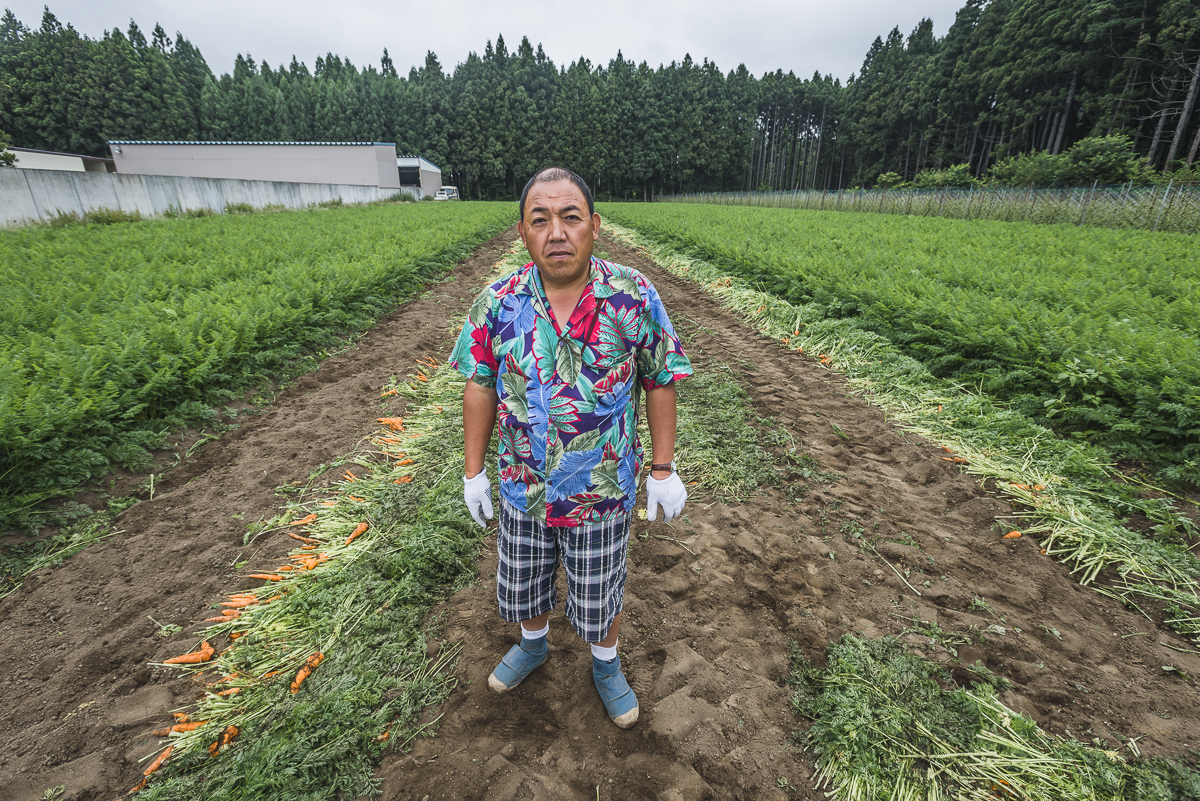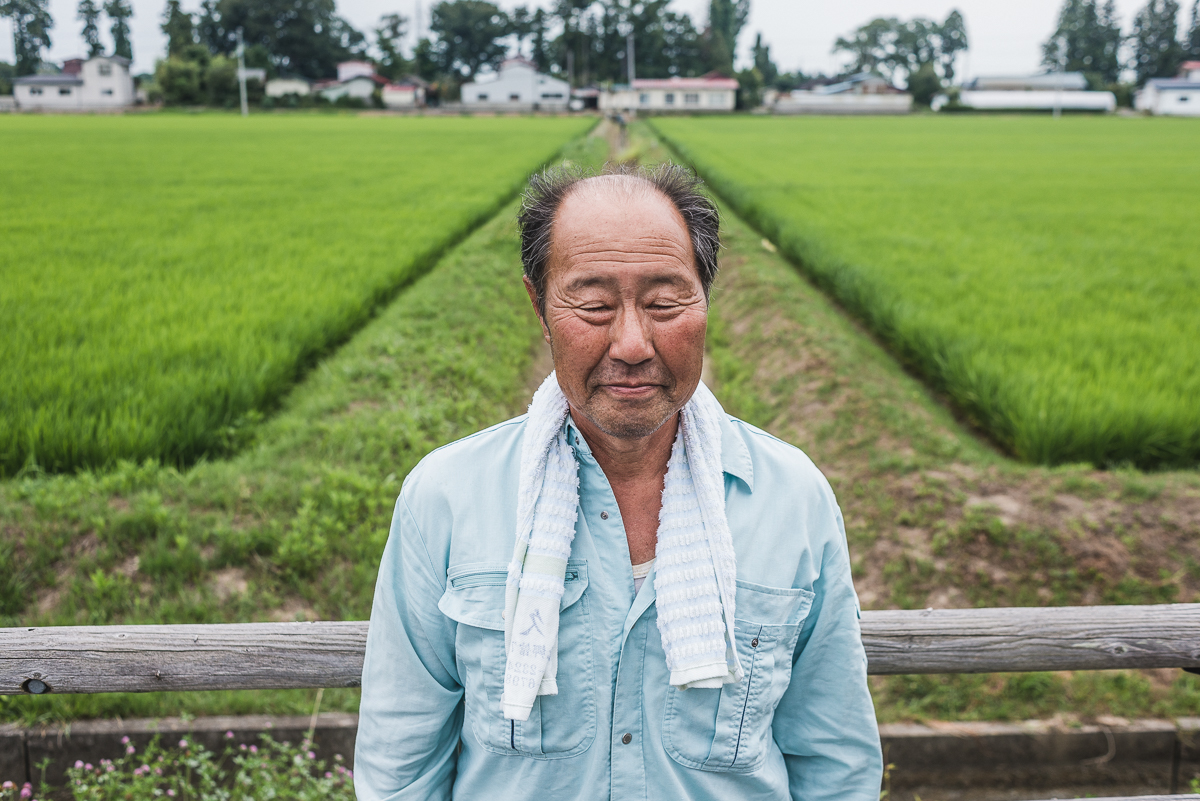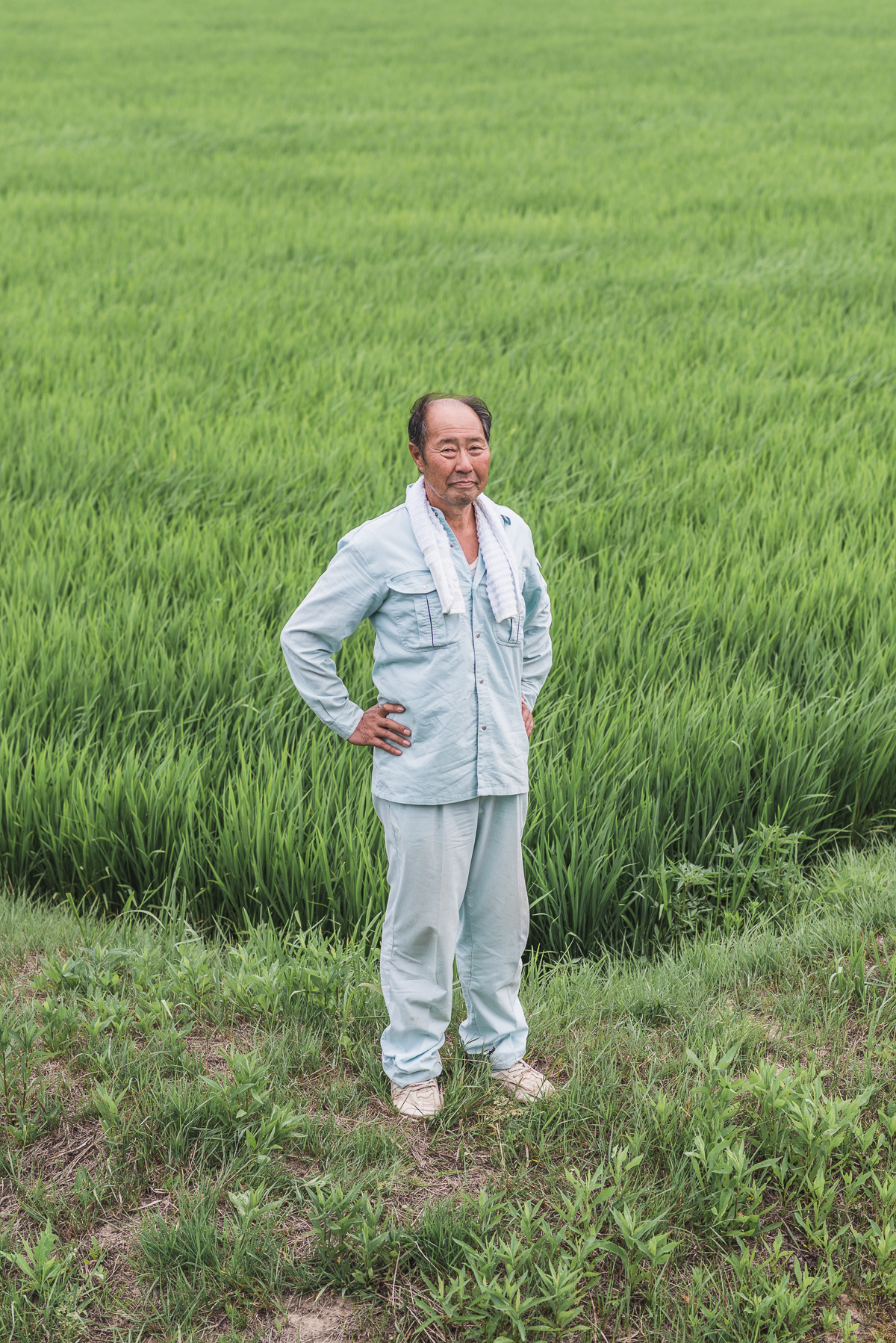 Watanabe Yoshiaki, 63, Tome, Rice
Yoshiaki is a fifth generation farmer on this plot of land. He plans to sell his rice fields in the future, despite farming this land for more than 40 years. Rather than take over, his three children have all moved into the city and taken up office jobs.
Despite being a superior product, the price of Japanese rice has decreased in recent years as high quantity and external exports have driven prices down.
"I have no future generations, and no desire to continue. I lost my heart for farming because there is not enough money."
Hashimoto Takashi, 68, Ishinomaki, Cattle and Rice
Takashi has been farming for 50 years on the same land as his parents. His three children live in Hokkaido and Ishinomaki, where they work as teachers.
For three years following the tsunami, he was unable to sell any of his farming products because of the radiation quarantine. During this time, his family survived on subsidies given to them by Tokyo Electric.
Today, he says Fukushima beef still sells for typically 100 yen lower per kilogram. He is very nervous for TPP because it will reduce the price of his beef. Before, he grew rice, but switched to soy beans as that has been more profitable.
Tsukasa Abe, 71, Higashi Matsushima, Cucumber and Tomato
Abe, himself a third generation farmer, has two sons, 45 and 38. The oldest decided to take over farming after the tsunami washed away his previous office. The youngest continues to work in an office in Sendai.
Their family lost all of their farming equipment during the tsunami, and the government gave them money to help them purchase a new greenhouse and tractor. After the tsunami dump trucks arrived to take away the salty earth.
He is motivated by his heart, and enjoys feeding his family. It feels good to be connected to the land. While he is motivated by his quest to produce the "perfect cucumber," he says, "many youth want to find a dependable source of income and work in the city."
"There isn't enough land for individuals to be competitive in the market."
Saito Tadao, 64, Ishinomaki, Strawberries and Rice
Originally a fisherman, Tadao has been farming rice and strawberries for 30 years. During this time, he says, the price of both products decreased while the price of fertilizer steadily increased. His business is successful in part because his relatives own a cattle farm and provide him with manure to use as fertilizer for his strawberries.
He says the demand for rice is decreasing because of imports and other food options, while there is more rice available than ever. He originally had another greenhouse closer to the coast, but gave it up after it was destroyed by the tsunami.
His plan for TPP is to continue to produce the best products possible to remain competitive. Two of his three children have moved to the city for work. His youngest remains on the farm.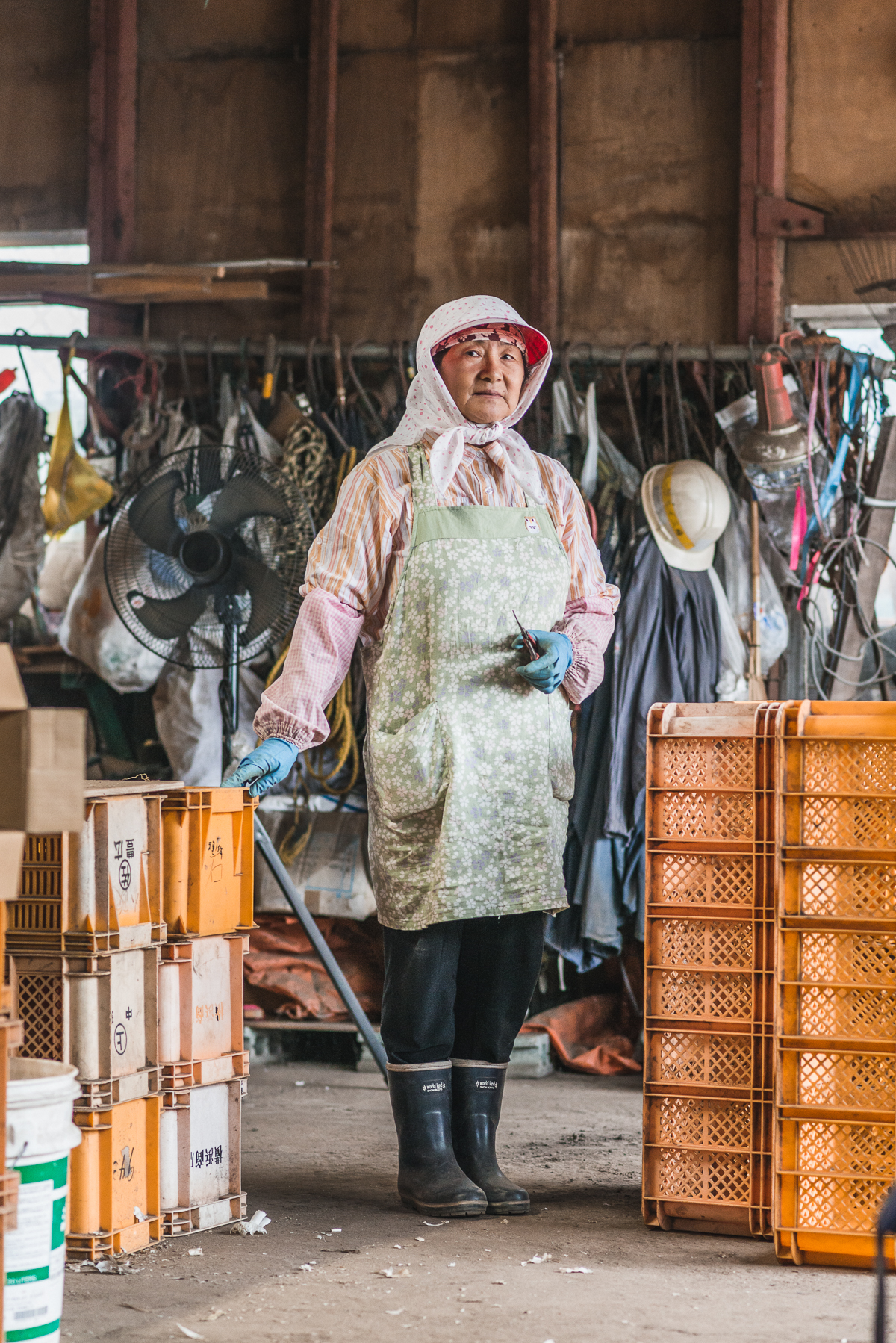 Sasaki Tomie, 65, Gonohe, GarlicTomie is a first generation garlic farmer, who began managing 10 hectares three years ago. She took up farming to make extra income and to occupy her time, as her husband worded as a carpenter. Her two sons live in Hachinohe where they work in office jobs. She does not like to farm and says that it is very tiring and does not pay enough.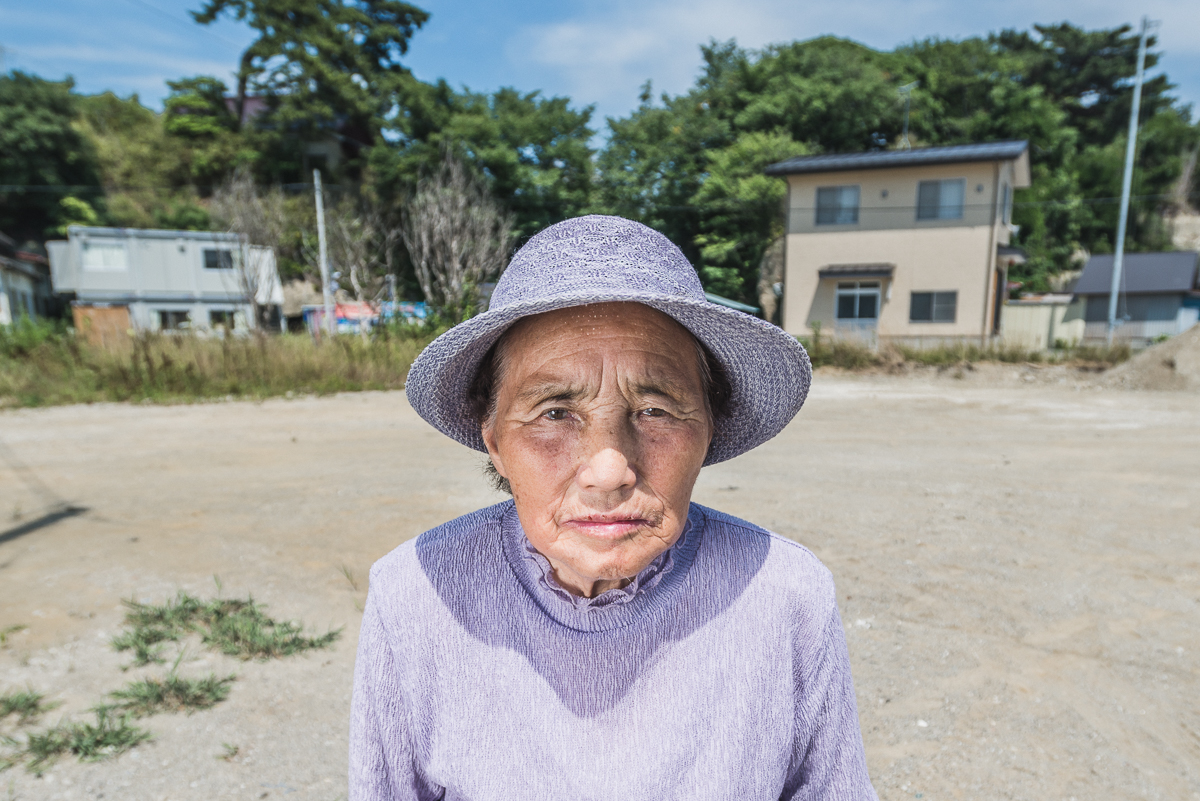 Hatsamu Suzuki, 86, Nonoshima Island, rapeseed
Hatsumu stands in front of the location of her previous home that was swept away during the tsunami. She grew up on Nonoshima Island, farming for 70 years. She has three children, all of whom live on the main island.
She lost everything in the tsunami. The salt water ruined the soil and nothing would grow on the land. Because of the distant nature of the islands, the soil was unable to be replaced. Through trial and error, she found that rapeseed would grow in the salinated soil.
She says about farming, "You use the body and mind. There were not always so many machines." And, "If they are passionate, the younger generation can easily succeed in agriculture."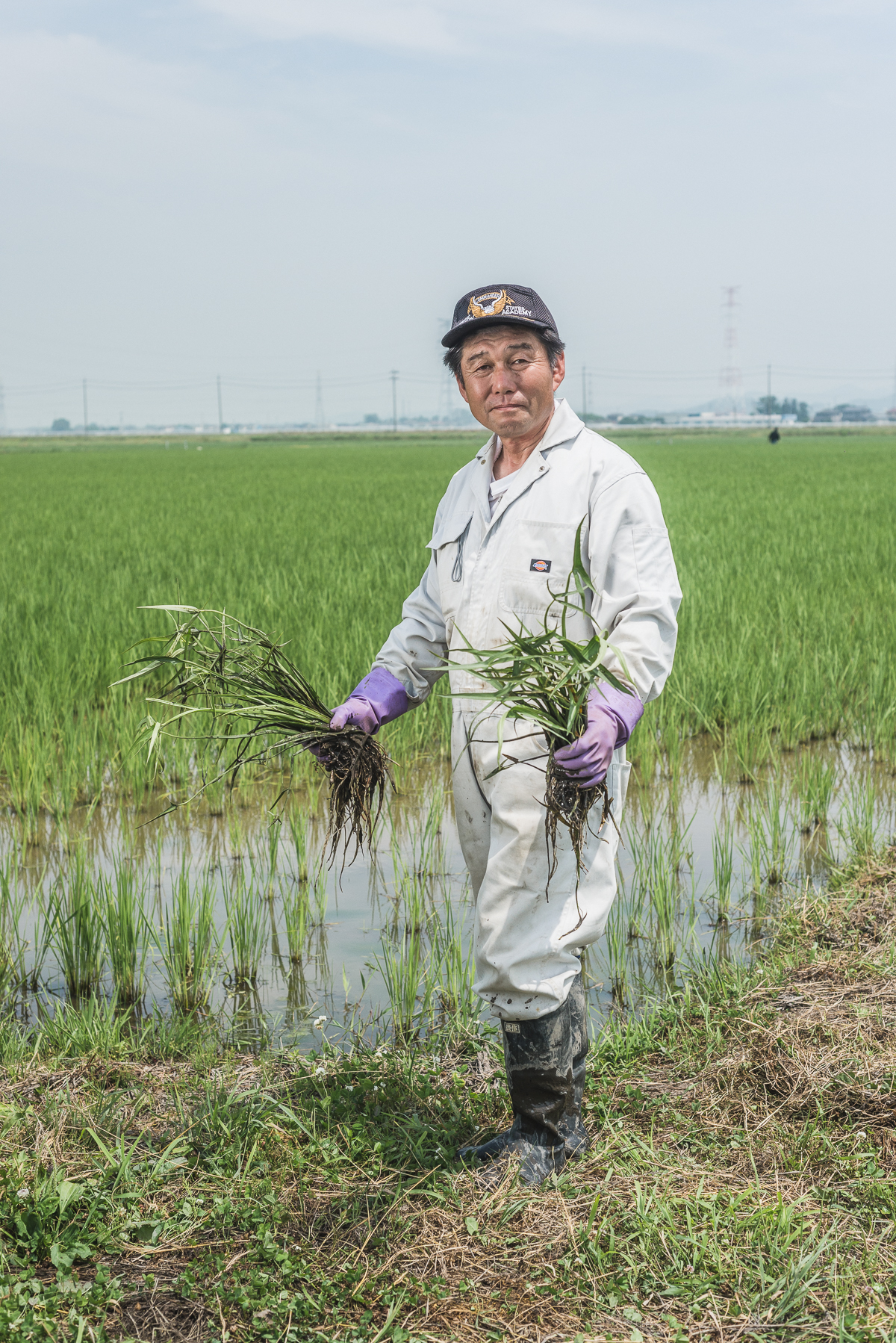 Ota Toshiharu, 60, Ishinomaki, Rice
Toshiharu and his wife Kikumi farm with their oldest son Atushka. Their other two children live in the city and work in offices. Toshiharu is a 12th generation farmer on these 11 hectares of land, accounting for more than 370 years.
After growing increasingly dissatisfied with JA and Nokio pricing, he chose to advertise and sell directly to businesses. Currently, he grows six breeds of rice, most of which are grown organically to increase value. In addition to most of the rice he sells directly to sake producers, he also has a specialty breed for individuals with rice allergies. He is not worried about TPP because of his specialty marketing, and his preexisting business with local sake producers.
Numahata Shunichi, 67, Nanbu, Apples and Pears
Shunichi is a 5th generation farmer, and has been working this one hectare plot for the past 50 years. He has three children, one of whom will help him with his farm when he is older.
His farm in rural Aomori has a contract with a major American restaurant company. He says previously the goal was to produce the largest quantities possible, but the consequence of this is that prices with the largest Japanese Agricultural Cooperative, Nokio, have been driven down for most produce. He creatively manages his farm to increase quality and provide specialty traits—like organic—for customers. He claims that quality and specialty products will save Japanese agriculture in the future.
He has many neighbors that have abandoned farms. This is an issue because fungus, infections and bugs will spread to nearby plots.
"More young people should farm," he says. The government-sponsored "Newcomers" program, offers 17,000 yen per month for five years for new youth farmers. He warned that if Japan does not produce enough, they will need to rely on imports. "The land is the foundation of everyone's work," he says, "we should treat it as such."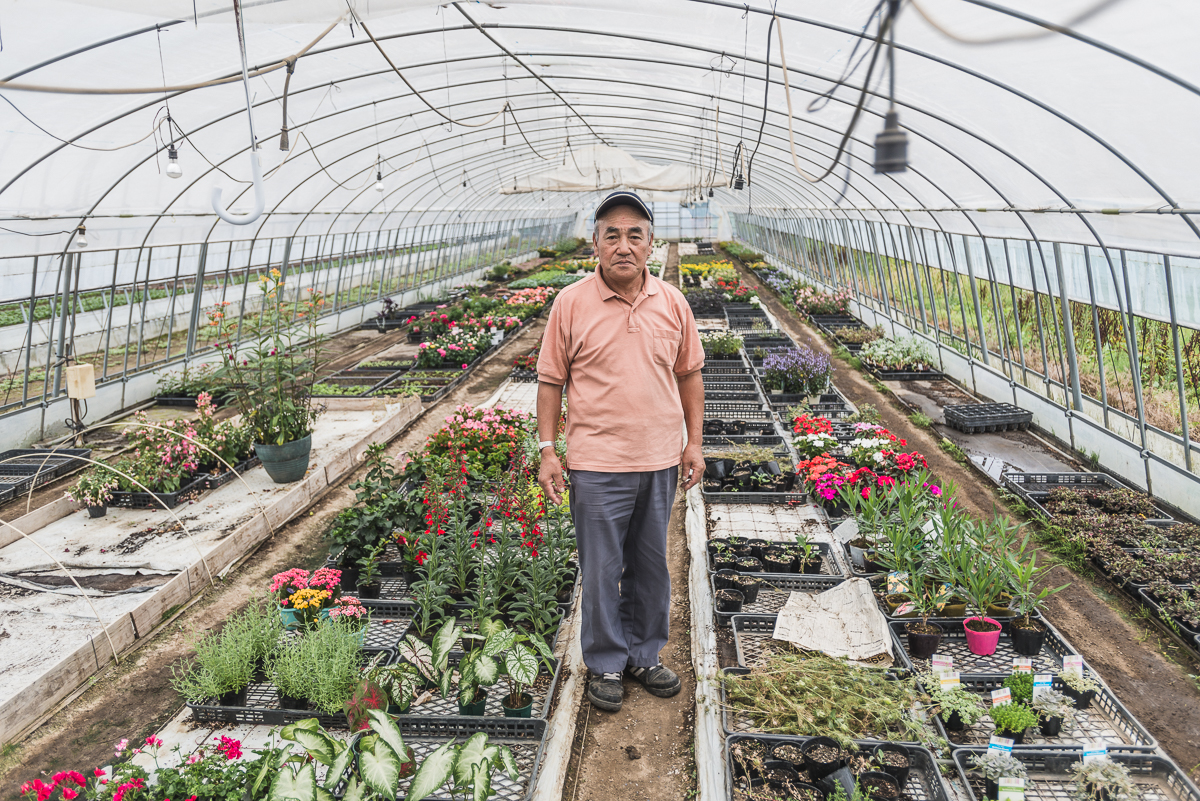 Masami Nakano, 65, Nanbu, Flowers
Nakano runs a local market that allows farmers in the area to sell their products at their own prices for a membership fee of $500. This is different from the national co-op, Nokio, or JA, that sets prices without consulting farmers.
"The price of agriculture has stayed the same for over the past 20 years, even as fertilizer and machinery has increased with inflation." He says Nokio needs to change, and believes they should be privatized to encourage innovation.Nakano runs a nursery and ships out smaller plants because there isn't enough land to simply grow the vegetables.
He says the best thing about farming is the freedom. He was once an employee, but it was difficult for him to buy into someone else's mission. He encourages youth to have confidence and trust their work. Because both of his sons died of cancer, and his two daughters live in Tokyo, there is no one to take over his farm. Only 10/43 farmers in his farmers market have someone who will take over their farm for them.
Ishii Nariko, 65, Nanbu, Grapes
Nariko has been farming for 44 years. Of her three children, the eldest, Yukio, helps with farming. It is customary for the oldest son to take over his parents farm, although they are worried about the future of their property because Yukio has no children of his own.
When asked about the future, she hopes peace will continue for her grandchildren.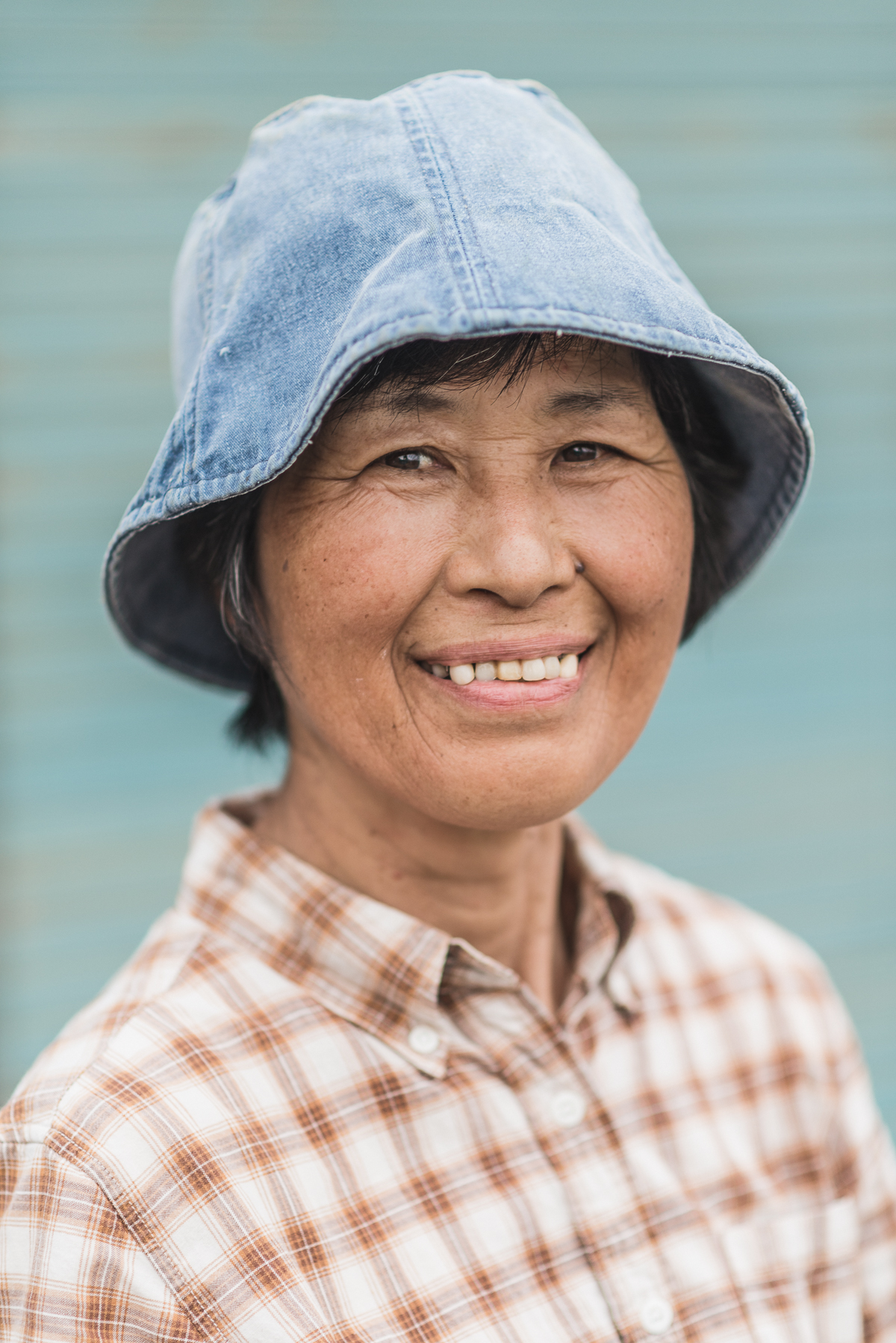 Sugwara Yuko, 63, Tome, Rice and Vegetables
Yuko and her husband Hatsuo have three daughters who work in office and clerical positions in Tome. Yuko is a ninth generation farmer, and her husband Hatsuo is an eighth generation farmer.
After working their 1.4 hectare plot of land for their entire lives, they do not want their daughters to take over farming.
They say small scale farming is difficult to survive off of, and that many are running from the industry. The government plans to build an offramp for a major highway through their property in the next decade. She worked as a clerk for 11 years, before joining her husband on the farm. Yuko advised to avoid farming, "it's not profitable and it's difficult to survive off as as an individual farmer."
Nakasato Nobuko, 64, Gonohe, Chinese YamsOriginally from Towada City, Nobuko raises Chinese Yams in Gonohe with her husband Kaneki. Her advice to future farmers is to "continue learning, and do whatever it takes to love your job."
Nakasato Kaneki, 70, Gonohe, Chinese Yams
Kaneki is a second generation farmer who began farming 40 years ago. He has one daughter who lives in Hachinohe and works in an office.His advice is to follow your heart: "While the rain and soil may be uncertain, the only certainty you have is that which comes from inside your heart."
Hariko Watanabe, 74, Urato Islands, RapeseedOriginally from Yamagate, Hariko grew up helping her parents with rice. She moved to Urato Island at 28 to be with her husband. When he died, she took up rapeseed farming with her friend, Hatsumu, to occupy her time. She has three children who do not farm, despite a surplus of available land on the island. The last ferry departs for the island at 6pm, meaning residents cannot work overtime at jobs on the mainland. The island is quiet, and needs more youth. Before the tsunami, there were 64 homes, only 30 of which have been rebuilt.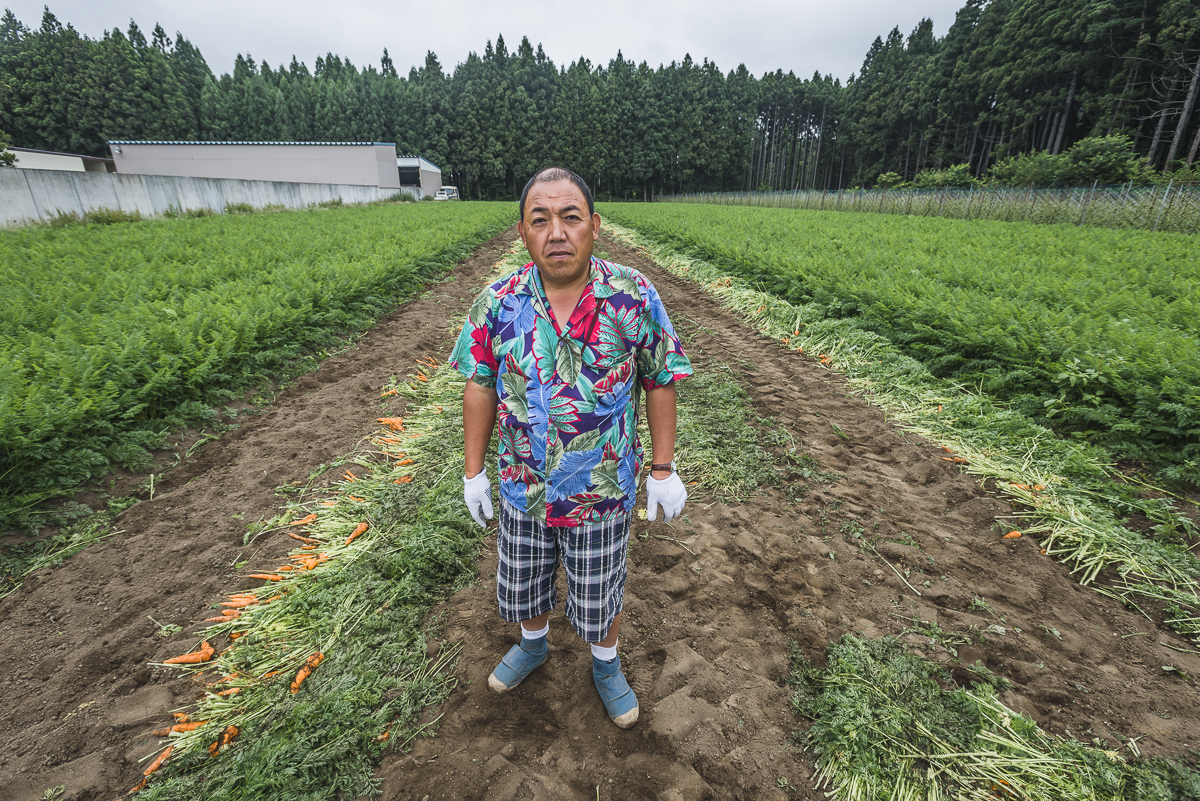 Kawasaki Hitoshi, 54, Gonohe, Carrots
Hitoshi is a second generation carrot farmer with two daughters that live in Tokyo, neither of whom will take up his business.
Itabashi Tsugio, 67, Akiu, Grapes
Tsugio is a 5th generation farmer who has been raising the first crop of grapes in Miyagi prefecture since 2008. He says he gained perspective early in his eclectic career working for an airline, weather news, and a hotel. His two children live in Sendai and Tokyo where they work office jobs.
In his career, he has taken advantage of opportunities, selling everything from mail order tropical fruit, to niche vegetables that fetch higher prices. He claims the local co-op Nokio, does not give fair prices to farmers, and opts to sell his own products directly to businesses. He works on his own advertisements and mailings.In the future, he says many migrant workers will be brought in to work larger farms, with less farmers. Despite this, he says it is important to maintain that diversity is key. For US-Japan trade, he says it is about more than just buying and selling, and that local cultures must be preserved.
Mikami Seishi, 63, Tome, Rice and Vegetables
Seishi is a seventh generation rice farmer with three children, who do not work in agriculture positions. He does, however, work on the farm with his seven grandchildren each Sunday to teach them about the land.
In recent years, he has gone into debt because he no longer makes enough money from his rice to pay the loans for his machinery. In order to increase income, he is planting organic food.
"As long as I walk, I will farm this land." After his death, he assumes the land will be acquired by the Japan Agricultural Co-op. In the future, he predicts individuals will need larger farms, and less people, to have higher profits. Like many, he feels unsure about the potential impacts of TPP.
Ishii Iwao, 66, Nanbu, Onion
Iwao farmed rice, but switched to onion because it was more profitable. His wife, Ishii Nariko, grows grapes in an adjacent orchard. Their eldest son, Yukio, assists them on their farm.
Kashiwazaki Shinichi, 67, Gonohe, Garlic and Vegetables
Shinichi is a third generation fisherman who took up farming 25 years ago. Since then he has developed a business that processes fresh goods, employing workers from seven different countries. He has two children that work in offices. He says he is not worried about TPP because his products are competitive and different enough to withstand market forces.
Shigeru Sato, 65, Sendai, Vegetables
Sato began farming 35 years ago, developing the idea for Ootaki Shizenn Farm two decades after. His three children help with his farm, whether as a laborer or with advertising and marketing. He says it's very difficult to grow organically, but he chooses to, in order to help the environment and have a better tasting vegetable. He grows 100 varieties of vegetable on his farm, which participates in a youth initiative to mentor young farmers interested in joining the agricultural industry. Currently, less than 10% of farmers in Japan are under the age of 40.